Yeah, you'd never put me in the digital voice camp I'm guessing. Well it turns out, being apartment bound with a lust for DX just makes you do crazy stuff sometimes.
We're still house shopping and with our best luck, we'll be close to work, but chances are my commute time will increase by at least 100%, so I convinced my wife to allow me to upgrade my old TM-V7A mobile to a new (to me) ID-880H from Icom.
I had an 880H on loan from the Collins club up in IA a few years ago and I found it to be a very agreeable radio. Our D-Star activity was severely minimal, mostly due to the fact that the N0CXX repeater has a terrible network connection which makes the linking functions basically useless. Needless to say, I didn't use D-Star much back then. The 880H is a great FM radio too!
Fast forward to today, and D-Star is far more prevalent worldwide, and the DFW area is no exception. In fact, the US Trust server that serves as the registration backbone of D-Star started in Dallas with the K5TIT group, so I have lots of choices for digital repeaters here.
I've had very good experiences with these repeaters. I've kept myself tuned in to the K5PRK (Plano Amateur Radio Klub) repeater for the most part since it is the closest to my apartment, and is rarely linked to any reflectors when I hop on. I'm trying to maintain proper D-Star etiquette and if the repeater is linked already, I'll leave it alone. Usually it isn't and I'll hook up REF001C during my short 10 min drive to and from work. It's really simple once you figure out how to program the radio. The 880H has something like 60 UR field memories which is where you put the linking commands so you just pick the one you want and key up, then go back to CQCQCQ. Pretty easy stuff, but honestly, the videos on YouTube make it look a lot more confusing than it really is. Anyway, I've talked to quite a few guys on the reflectors now and generally the audio quality is pleasant unless there's packet loss, which causes all kinds of weird beeps and boops that are not very pleasant. It has its moments.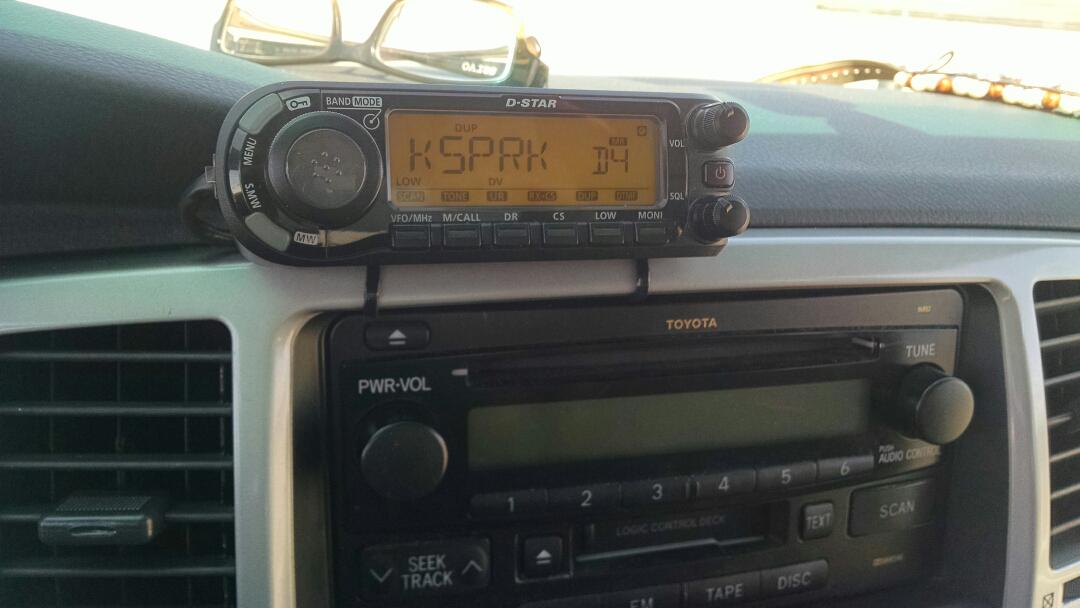 Crummy shot of the 88H control head installed in my 4Runner
So using the repeaters has been fine, but I can't help but feel I'm using up too much of the repeater's resources by linking up every day at the same time, what if someone else wants to use the repeater? Well then there's hotspots and DVAPs for the rest of us. I have looked at these options to play with but they're all pretty expensive (well not bad at ~$150). Then I found out about the ircDDB system which has a few software applications, including one that can actually make a GMSK modem using the soundcard: no AMBE chip needed!
I took a couple nights to play with my FT-817 and a variety of computers from my Raspberry Pi B+ to my wife's Windows 8 tablet to Windows XP running on a virtual machine on my Mac Mini but unfortunately I was unable to get the system to work reliably. It was incredibly cool to know I was receiving D-Star data from my 817 but for some reason I could not get a clear decode on the receiving end of things. The worst part was that maybe 5% of the time, I would change something then get a perfect copy on the 880H, filling me with hope that I had figured out the problem, only to have completely garbled nonsense on the next transmission. There was a lot of this back and forth until I finally gave up and threw in the towel. I may revisit the project again but I'm probably best of just going for one of the GMSK modem boards instead. Still it was an interesting investigation no less.
In other news, it looks like our lease is up at our current apartment and after everything we've had to go through with management we decided to just move to another complex while we continue our house hunt. We're probably justified in moving just because of the management but the real reason we can't stand to stay is the road noise! We live on the corner of 2 very busy streets and only a couple blocks from the police and fire departments. Needless to say, even with good windows and doors, it'd be noisy. Unfortunately we don't have good windows or doors either so the noise is incredible. People don't usually believe us when we tell them! We're looking forward to some peace and quiet for sure.
I'll be sure to update with the move and if I make any progress with the D-Star setup! Thanks for reading as always and don't forget to subscribe and add the blog to your reading list. 73!